In May of 2018, I attended a PTSD Training for post 911 veterans at the Horses For Heroes Ranch, located in Santa Fe, New Mexico. The owners, Nancy and Rick DeSantis, had created a rock formation labyrinth on their property. Fascinated by the layout of the labyrinth and the idea of doing a walking meditation, I entered the labyrinth with a sense of awe.
As I recall that day, I remember being in a hurry. It felt awkward to walk so slow and to meditate while walking. I could not quiet my thoughts, and I felt a sense of urgency to get to the center. Of course, once I got to the center, I had that same urgency to get back out.
Fast forward to today.
This week, I walked a labyrinth in my local area. Once again, I was in awe of the beauty laid out before me. Plants formed the walkway, while four rock formations represented the North, the East, the South, and the West. Standing in the entrance, I looked up to see Mt. Hood in the distance. Its beauty reminded me of the poem I recently wrote entitled 'The Mountain.'
Once I entered the walkway, I was greeted by a pregnant statue. The world was her belly and breasts. Her hair was adorned with the animals of our earth. She was lovely. The center was home to two rock benches, two adorably cute dragons, one holding a flower and the other looking like he was ready to play. Between the two dragons sat a collection of crystals and stones. Amongst the stones were two hearts, I picked them up and held them in my hands. They were warm from the sun. One was filled with broken lines. The other was a solid white color that gleamed with the sun. One in each hand, I sat quietly on the bench and reflected upon this past year and all that the pandemic has brought to our lives.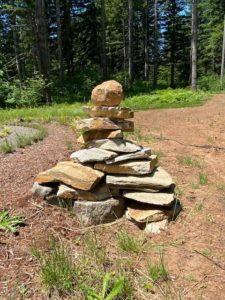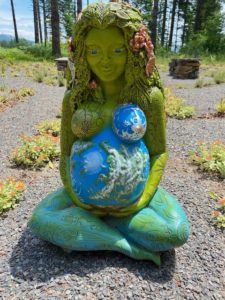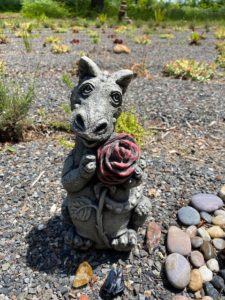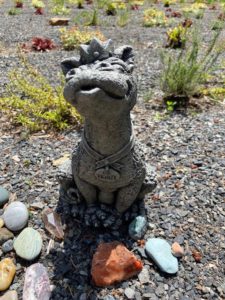 I wanted to share this story with you because today's walk through the labyrinth reminded me how far I've come since that first walk in 2018. At the time, I didn't know I had cancer lurking in my body or that I would ever move to a slower pace in life. That last statement made me laugh out loud as I was often encouraged by someone I know to slow down more. Of course, we are also two very different personalities.
What cancer taught me is that life is too short. So take the time to slow down, smell the roses, enjoy life as it comes, and by all means, live life like there's no tomorrow.
During the pandemic, how we approached our everyday lives was drastically changed, as we all found our lives forever reshaped in some way. I can already feel the earth groaning as the world opens back up and people get busier again.
I'm sure many of you, including myself, want to jump back into the world and resume what we once referred to as normal. Sure, we've all got things to do, people to see, vacations to get back to, etc., but I would encourage you to give yourself the gift of a slower pace while enjoying those activities.
Take the time each day to reflect on your day. To enjoy each moment as it comes and believe that you are worthy of being here on this beautiful planet we call earth.
In Love and Health,
Vonie
[mailerlite_form form_id=5]
https://voniekalich.com/wp-content/uploads/IMG_33091.jpg
1280
960
Vonie
https://voniekalich.com/wp-content/uploads/vk-coaching-logo-headerx156.png
Vonie
2021-06-30 02:18:39
2021-10-17 13:51:27
The Labyrinth