Kicking Cancer's Ass
It's only knee pain – Late September 2018, I was out for a morning run and suddenly developed knee pain. A runner of many years, I figured, after sitting at a conference for five days, I was just stiff and needed to work out the kinks. I continued my run. The only thing is – the pain wouldn't go away. It was unlike anything I'd ever felt. 
After six months of doctors and physical therapy appointments, I finally had an appointment for an MRI. Two days later, the doctor calls and delivers the results of the MRI. Alone in my apartment, the hot tears began to roll down my cheeks.
CANCER! The word alone strikes fear and shakes one to the core. How the hell did this happen? I had taken good care of my physical and emotional health, or so I thought. Cancer isn't supposed to happen, let alone happen to me! I practiced what I preached.
After a month-long delay, I finally met with an orthopedic oncologist at OHSU. Thankfully, I had a good friend with me when the doctor confirmed the cancer diagnosis. A biopsy was next, and another week of waiting or results. 
The biopsy confirmed I had Large Diffused B-Cell Non-Hodgkin's Lymphoma, localized to my tibial plateau (knee joint). Another week passed before I met with a Vancouver Oncologist to discuss the next steps. Thank God for trusted friends; I didn't go alone.
 So, it begins – During the PICC Line (Peripherally Inserted Central Catheter) insertion, the nurse informed me that I wouldn't be allowed to lift more than 10-15 pounds with the catheter in my arm. Once again, the tears began.
The news dealt a killing blow to my already overwhelmed emotional state as my world turned upside down once again. Before my knee had blown out, I had been training for a Powerlifting competition. Although I could no longer do lower body workouts, I was still lifting heavy weights for the upper body. After 28-years of living the life of a fitness professional, I felt defeated.
On June 25, I arrived at the oncology office, scared to face my first round of Chemo. I was an emotional train wreck. The nurse, whom I came to adore, quickly came to know how I felt about BIG PHARMA and the process of cancer treatment.
Drugs that will half kill you are administered, and then you are expected to live through it. The nurse understood my discomfort. She held my hand, gave me hugs, listened to my fears, hugged me some more, and lifted my spirits when I was down. I will never forget her and the excellent care she provided. 
Before Chemo, I had seriously considered not doing the conventional cancer treatment and moving towards a more natural approach. I heard all kinds of advice from friends and family. Despite all of their best intentions, I was still filled with emotional turmoil and uncertainty. My friend Lorrin, who is also an Equine Gestalt Coach, offered a phone coaching session.
The coaching session – While on the phone with Lorrin, Cody and I made our way to the round pen. Once we entered the round pen, I took Cody's halter off to allow him free liberty. Lorrin asked me to walk clockwise around the pen while we started the session. She helped me to center myself (get out of my head and into my body). One of the Equine Gestalt experiences that still stands out for me today was my conversation with Chemo and with Cancer.
Until you experience Gestalt work, this will perhaps sound odd and a bit whoo-whoo. I assure you it isn't. Chemo became known to me as "Wonder Woman" and agreed to fight for me. Cancer said it had come to offer me life lessons and that it would need help leaving my body. It just needed some help to do so.
As the session progressed, I felt a sense of calm, and uncertainty faded away. I decided that combining western medicine, "Chemo," with alternative medicine would be the best approach to kicking Cancer's Ass.
The side effects – nausea, constipation, appetite changes, insomnia, tinnitus, hair loss, and emotional highs and lows were abundant. By Monday evening, gripped in fear, I called 911 when chest pains wouldn't go away. Thankfully they subsided, and a night in the hospital confirmed no heart attack. Later came to know that heartburn was going to be a significant player in the side effects.
On the evening of July 4, just after watching the Fort Vancouver Fireworks, I was hospitalized again. Although tired and a bit ill-feeling, I had enjoyed a beautiful day with friends and family at my apartment near Fort Vancouver. As the evening progressed, I had become feverish; checking my temperature, I found I was beyond the recommended temperature for an oncology patient.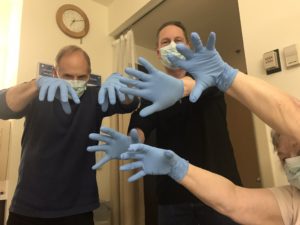 This time, severely dehydrated, and shivering, I arrived at the hospital seriously ill. Once he found out I was a cancer patient, the ER doctor knew I had a severe neutropenic infection. Doctors and nurses moved quickly to get tests completed. The cause was never found. Admitted to a room, masks, gloves, and gowns for the medical team and visitors were required.
Strong antibiotics are administered three times daily with daily injections of medications to raise my neutrophil count (those white blood cells that fight infection). As I began to feel better, the night nurses would let me walk the hallways. With a mask on and blanket wrapped around me, I would walk to alleviate boredom and move. 
On the morning of day four, three doctors came to inform me that my neutrophil levels were still not at a level where I could plan to go home. I would be staying another two or more nights. However, if the blood test I would be getting later that day showed the right levels, there was a chance. During our conversation, they realized that I had been walking the halls in the evenings and early morning hours.
They stopped that and informed the nurses that I was to confine myself to my room. I felt like a little kid arguing with three grown men. They determined that despite my feeling better, it was too risky. Because I wanted out of that hospital, I stayed in my room and completed an Immune Boosting Qigong Video that I knew would help boost my immune system. See the video here https://www.youtube.com/watch?v=i3noqRBgxWM. I also did an Eden Energy Medicine routine that I knew would also help me to feel better.
Later that day, my friend Lorrin came down from northern Washington to visit me and provided an amazing Reiki session. After she left, the nurse came to draw blood. Fingers crossed the count would be high enough to go home. I barely made it, but it would do. I was elated; I was doing a happy dance around the room as I was getting my things gathered together. The nurses were delighted for me. They were amazing. I got hugs, and off I went home. 
Rounds two and three of chemotherapy, I fared better and thankfully didn't land back in the hospital. However, neutropenia was my new normal, and daily shots to keep the neutrophils boosted were required. The first 5-6 days, despite little sleep, I would be on fire with energy because of steroids. By days 7-10, try as I might, the smallest of tasks would bring tears to my eyes as I struggled to feel better. By the time I would start to feel like a human again, I would go in for the next round.
The good news – I got to ring the bell, and I am on the right side of the dirt. The cancer treatments worked. A CT Scan in February confirmed that I am still in remission. It also confirmed that I still have two stress fractures and a small bone fragment floating around. The original site of the tumor is slowly regenerating bone. The prognosis is another nine to twelve months before I can consider running again. Radiation brought on its own set of problems with soft tissue damage. I might not ever rerun a marathon, but I will run.
Gratitude – I am eternally grateful for the Eden Energy Medicine practitioners that worked with me before and after my diagnosis. I am thankful for Lorrin and other friends who sent me Reiki during the healing process. The friends that brought me food while in the hospital (the hospital food would have killed me). The prayers, positive thoughts, and daily inspiration I received helped me stay focused and keep putting one foot in front of the other while looking to a bright new future.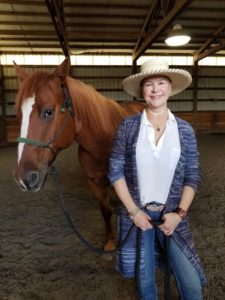 I can't finish this post without sharing how Cody helped me through this aspect of my life. First, Cody knew something was up long before doctors did. He often sniffed my knee when I was with him. During my treatment, I would sometimes go to the barn and sit in Cody's stall, read a book, sit quietly, talk to Cody, talk on the phone with a friend, or meditate. Sometimes, with a hat on to cover my bald head, I would sit in his pasture while he would graze on the grass near me. Cody knew I was vulnerable. He was ever so gentle around me. Loving me with gentle nudges, laying his soft lips on my knee, letting me lean on him for the unconditional support he offered.
Finally, I'm sharing all of this to explain why I've not reached out for so long. And, if you or someone you know is fighting Cancer, or perhaps it's some other form of illness or emotional disparity, please feel free to share this post.
Despite all that we sometimes face, life can bring blessings along the way, of which I found many during my journey through Cancer. I'll write about some of those in some future posts.

With Cancer a thing of the past and well into recovery, I can now get back to coaching. I've missed getting inspirational newsletters out to our followers and look forward to hearing from you. For those of you that knew of my cancer diagnosis, I thank you for reaching out to me during that temporary crisis in my life and helping lift my spirits with your kind words and loving presence.

Much love,
Vonie